Human kindness is important to wellbeing, and creates a ripple effect in a huge world of chaos. The simplest of acts can initiate change, bring comfort to others and content one's own spirit. Reaching out is a way to bring meaning to Life.
Repurpose your skills and flow towards peace.
Projects
Community projects need not be formal or expensive. See below for some simple, yet inspirational ideas.
100 Day Project
The 100 Day Project is a free, global art project. Every year, thousands of people across the globe commit to creativity for 100 days. The idea is to choose a project, do it every day for 100 days, learn, improve, and share your progress with an online community.
Find out more and sign up here: https://www.the100dayproject.org/
TheraPets
Getting out into the community with your dog is both relationship-building and bonding. Pets can help reduce stress, anxiety, loneliness and depression, but for many people, taking care of an animal is not a viable option. Whether visiting care homes, children's wards, people with disabilities or elderly neighbours, the rewards of volunteering with TheraPets, for visitors, the people visited and your four-legged friend, are enormous. A calm, friendly dog over one year of age is the starting point. Get in touch with a local organisation or Canine Concern Scotland, and see how you and your dog can get involved.
More information at:
https://www.canineconcernscotland.org.uk/therapet
Greetings Cards
Try something easy, like card making. Recycled card can be used as a blank canvas for drawings or 10″x8″ photo prints. Coming up with a caption is fun too!
Receiving a card can really brighten someone's day, especially when the sender has taken the trouble to make it. Cards can also be sold, e.g. at work, with proceeds to charity, or given direct to a local charity shop for sale in packs.
Children's Litter Picking
Children have an innate social conscience and untethered imagination. In a selfless act of civic duty, my friend's son, aged five, set up a local litter picking group, penning the following letter to his friends:
"Dear x, I need your help to clean up W. There is lots of litter on the ground, which is poisonous to the world and can hurt animals. Please can you help me to pick up litter on Saturday? I will be in the park from 9am. Hope to see you there!"
Young children taking positive action to save a planet in crisis are a true inspiration to us all.
Puppet Theatre
Storytelling provides role models for children, teaches values, develops the imagination and is mentally therapeutic for both child and storyteller. Rudolf Steiner was an advocate of children's puppet theatre for such reasons. In the same tradition, a friend runs woodland puppet groups in Lincolnshire (offering free virtual sessions to keep families and young children connected during lockdown). She has kindly shared instructions on how to get started, if you would like to have a go at this beautiful pursuit.
Charity Sale
Each Christmas season, a friend's explosively tasty hot chilli sauce is sold by a local shop, with all proceeds going to charity. Using a family recipe, recycled glass jars and homemade labels, the results are truly amazing!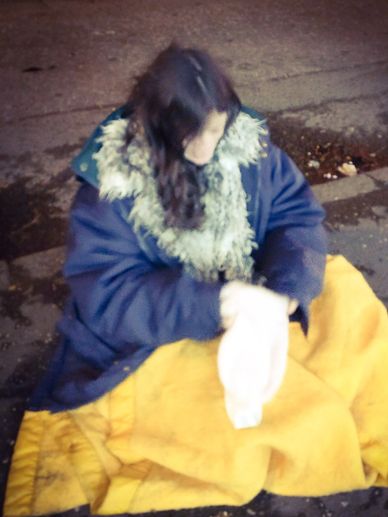 Hats for Homeless People
Homeless people need our help. They are real people with names and feelings, who have very difficult lives. A gift of a hat, scarf, socks or a blanket could be a welcome change to being ignored. At the same time, learning a craft is a type of meditation, it can improve motor skills and take our minds off things that cause stress and pain.

Keep a hat in your pocket when it's cold outside and find the courage to pass it on to someone in need.
Animal Blankets
Animal shelters do great work, together with the help of volunteers and donations. If you are short of time or funds, but have a lot of spare yarn, consider contacting your local dogs & cats home to ask if they need blankets. When an animal is re-homed, they will then have something to take with them for comfort.
An easy knitting pattern for a small machine-washable pet blanket can be downloaded from the Resources page.
Wooly Hugs
The Wooly Hugs charity is an online community supporting diverse groups in need, including premature babies, bereaved families, and refugees. They accept 6″ knitted and crocheted squares (to be made into kinship blankets, for example). Companies pledging money for every square produced by their employees can also raise thousands of pounds for good causes (a friend's firm raised £2,000 in 2020, which is tremendous, and they sponsored again in 2021).
If you want to be a Woolly Hugger, check out their website for ongoing projects: https://www.woollyhugs.org/
Choir
Singing is good for your brain. The vibrations produced in the body contribute to emotional and physical wellbeing, while the camaraderie of singing in harmony lifts spirits. Joining a choir is also a way to overcome fear and release endorphins, whilst expressing yourself openly and joyfully.
Why not join a community choir in your area or online? Or consider starting one up, helping others to reduce their stress levels too.
Go with the flow
Sign up to the news stream
Processing…
Success! You're on the list.
Whoops! There was an error and we couldn't process your subscription. Please reload the page and try again.